Category Archives:
Latest News
On Saturday 21st March we performed  at the Harlow councils Chairman's Civic Dinner. Over 25 dancers performed a specially choreographed 10 minute number that included  live singing as well as dance.
The first number sung, "Beyonce's 7/11" was by Sinead Wiseman and showed her diverse range of vocals, backed by 5 of our formation team.
The mood was then changed with a Sam Smith medley, sung by Maddison Sarkies, Charlotte Rudin, and Masisie Humphreys. These included "Stay with me","Lay me down", "Restart" and "Not the only one".
It was a real honour to be asked by Harlow Chairman Ian Beckett to take part and return for a second time to the Civic dinner. The last time we performed was for Councillor Mike Garnett at the Civic Centre.
The night was a huge success and we had great feedback from the guests.
Check out our performance! To book us for your event please call 01279 304937
Light, Art, Action!
20th February 2015
Makin' Steps performance team provided the entertainment for the Gibberd Galleries opening night – Private view of their new exhibition Light, Art, Action! with 2 high energy numbers – an opening number comprising of live singing and dancing and then an especially choreographed piece that has been inspired by one of the sculptures in the town.
An exhibition of art, dance, theatre and student artwork.
• Theatre Design sets and Costume – The Society of British Theatre Designers
• Live Dance Performances – Makin Steps Performing Arts,
• Harlow College Art and Design Students – Gallery wall mural
• Harlow student exhibition organised by the Young Curators
Inspired by local sculpture and music from emerging composers (Alumi from University of Hertfordshire and students from Hertfordshire College of music) dancers, artists and theatre designers join together to transform the Gibberd Gallery into a magical set. This exhibition will be packed with live dance performances inspired by the sculpture collection with commissioned music pieces, plus films of dance in the gallery. The gallery walls have been used as a canvas for Harlow College Art and Design students to create a mural depicting all styles of dance.
Six theatre designers will be showcased each is a member of The Society of British Theatre Designers. The display in the Gibberd Gallery has been adapted from their recent show 'Make:Believe' at Nottingham Trent University. This includes working theatre set models, costume, photographs and films of live theatre performances. Each design shown was created for a real theatre in the last four years, two pieces were created for shows at The Royal Opera House in London. The six designers are;
• Bob Crowley
• Simon Daw
• Matt Deely
• Shizuka Hariu
• Kimie Nakano
• Antonella Petraccaro
A programme of events will include live dance performances, life drawing of clothed dancers, theatre set workshop, Dame Laura Knight talk and dance workshops. The Young Curators will also be organising a small schools exhibition along the same theme which will launch our new dedicated childrens gallery.
Thank you to our amazing dancers & singers who performed at the Gibberd Gallery with two fantastic performances which was well received by the audience. Thanks also to Ross Simpson – Record Producer from Woodbury Recording Studios for mixing the awesome live vocals.
As always we are very proud of you all and your professionalism – you did us proud!
Check out our video created especially for the Gibberd Gallery
We are back for our new term which starts from 1st September and we are enrolling for classes in Street Dance, Ballet, Tap, Modern, Singing, Acting & Musical Theatre.
We are very excited to be back and ready for a new term of exciting classes and new projects that we have in store.
Established in 1984 Makin' Steps Performing Arts school offers a diverse range of dance classes in Harlow as well as other performance skills classes such as acting & singing. We believe that our teachers can, through their vast experience and I.S.T.D and LAMDA recognised teaching methods offer the best Dance, Singing and Acting Lesson in the Essex Area.
Our extensive range of classes include hip hop/street dance, ballet, tiny tots' ballet, modern, tap, singing,acting/voice technique, and pas de deux, making it the biggest school in the area offering this range of classes.Lessons start from as little as £4.25 a class which guarantees you first class tuition at an amazing value for money too! Whether you want to get fit, try a new hobby, make new friends or have been inspired by all the dancing shows on TV like "Got To Dance" – our team of professional, fully qualified, insured and CRB registered teachers are here to make sure you have a fun, safe and enjoyable experience! Makin' Steps tutors are experienced, fully qualified and CRB registered professionals who are experts in their teaching fields..
Our principle teachers have worked alongside top artists such as Kylie Minogue & Robbie Williams on TV shows such as MTV & The Brits Awards as well as choreographing for TV shows such as Top Of The Pops and Strictly Come Dancing. This experience and knowledge combined with qualifications from one of the world's leading dance examinations boards is what sets Makin' Steps a part from many other local schools. Proof of the high standard you will receive at Makin 'Steps is shown by the fact that many of the school's pupils have furthered their training at professional London based colleges such as Performers, London Studio Centre and Colin's Performing Arts, with past and present pupils engaging in professional contracts all over the world.
Makin steps team performing at today's millwards school fete.
Tune into BBC radio Essex at 4.30pm today to hear a interview with Makin' Steps proprietor Margaret Wright. The Radio station called Makin' Steps and asked if we would do an interview live on air giving its listeners the low down on the school and what we have to offer.
About the Show
Book Tickets
Seating Plan
T&C's
Makin' Steps is back with a very special "30th Anniversary" show at the Harlow Leisurezone from the 29th – 31st May 2014.
A spectacular production celebrating Makin' Steps 30th year of teaching perfomring arts in Harlow. The show features students performing a vast variety of song and dance styles beautifully showcasing the versatility and talent of the schools pupils.
With beautifully choreographed numbers that include everything from Street Dance to classical Ballet and from Tap, Modern and right through to musical theatre this show is sure to have something to appeal to the whole family. This coupled with amazing costumes, lighting, special effects and all performed on a unique purpose built stage with a set that is sure to blow your mind you will be crazy to miss out on this very special 30th anniversary production.
As well as dancing – Makin' Steps professional live band (under the musical direction of Ross Simpson) superbly recreates every song to accompany the schools singers giving the show a very unique approach.
If you have never seen a Makin' Steps show before then here is your chance to see why Makin' Steps is Harlow's premier performing arts school.
 TICKETS ON SALE FROM 10am 9TH MARCH 2014
PERFORMANCES AT 7.30PM ON THURSDAY 29TH & FRIDAY 30TH 
3PM & 7.30PM ON SATURDAY 31ST
To book tickets please call 01279 304 937 or click here to book online.
Previous production reviews from the Harlow Star and Quotes From Robert Halfon-MP
"Stunning show is proof that Harlow's got talent." – Harlow Star "This was no ordinary concert, this was an all lights flashing, pyro's exploding, rhythms-pulsing musicians-excelling concert that had the audience shouting for more.." – Harlow Star

Just seen most incredible show by @MakinSteps in Leizurezone:Creative Genius,Incredible choreography,Fantastic music,singing and dance -Robert Halfon MP

SLICK, ambitious and breathtakingly bold, Makin' Steps' dazzling diamond jubilee showcase was an adrenaline-pumping thrill-ride through 60 years of pop culture -Harlow Star

 

BGT stars set pulses racing with dance workshops
BRITAIN'S Got Talent finalists Twist & Pulse took a special workshop of students at performing arts school Makin' Steps on Tuesday. Ashley Glazebrook (Twist) and Glen Murphy (Pulse) took two workshops at Potters Street Community Centre, one for younger students and the other for an older group. The ages of those who took part ranged from seven to 27. Around 70 of the school's pupils took part in the workshops.
As well as the classes they were also given a dance demonstration by the boys.Twist & Pulse said after the workshop: "We really enjoyed teaching at Makin' Steps and were taken back by the high standard of all the pupils. "We loved the enthusiasm, commitment and professionalism they showed. The pupils street dance technique was very strong." Margaret Wright, owner of the school, said: "I am so proud of the students tonight. They worked really hard and really nailed the choreography set by Twist & Pulse.
"The boys were great with the students, signing exclusive Twist & Pulse T-shirts and giving a question and answer section at the end of the evening.
"Twist & Pulse are the latest of a long list of amazing dancers and choreographers we have had at Makin' Steps. Everyone from Justin Timberlake's choreographer to dancers for Michael Jackson & Step Up revolutions lead man Misha Gabriel have been down to show our pupils their talents." After the workshops the students had time to get some pictures with the boys.
Margaret added: "We are very pleased with how the event went and look forward to many more to celebrate our 30th anniversary year. "We will be holding more workshops in the near future so be sure to check out our website for more information."
Twist & Pulse were runners up on the fourth series of the ITV talent show in 2010. They narrowly missed walking away the winners in the live final to Spelbound.
In 2012 the boys returned toBritain's Got Talent with their own dance troupe – Twist and Pulse Dance Company – and reached the live semi-finals. Also that year the boys presented and performed at every date of the 70-day Olympic torch relay tour.
Makin' Steps Harlow classes will resume from today 2nd January 2014. We will be restarting all our the classes on our extensive timetable which include – Street Dance, Ballet, Tap, Modern, Singing & Acting. So dust off your dance shoes, get those vocal cords warmed up as we kick off 2014 in true Makin' Steps Style. As this is our 30th Anniversary year we have made some amazing changes at the school and have not only a spectacular 30th anniversary show in May, but also a whole host of other events planned throughout the year. Our first is on Tuesday the 7th January when Twist & Pulse will be coming down to take two classes with our students.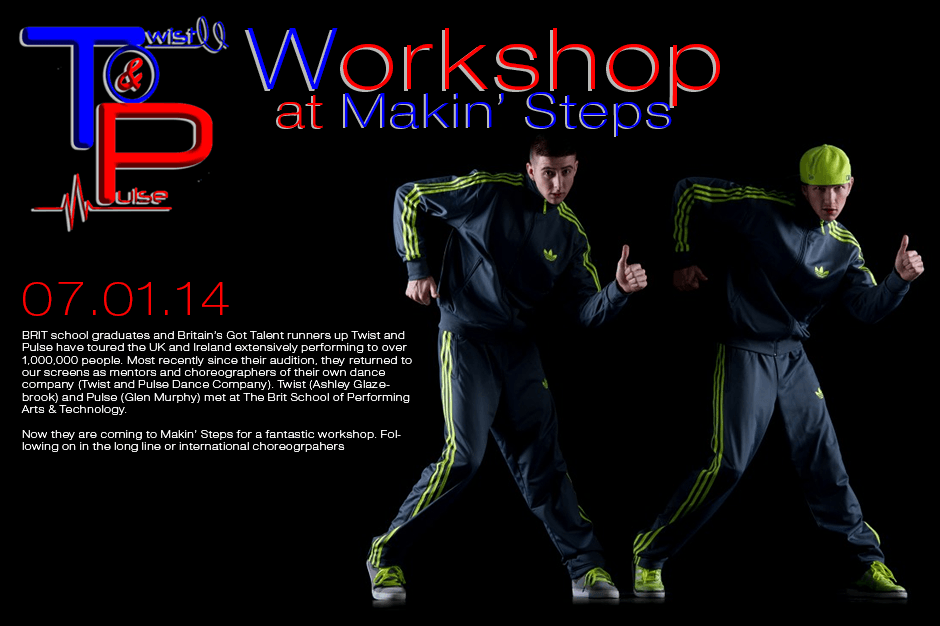 So get ready for a pack year at Harlow's Premier Performing Arts School.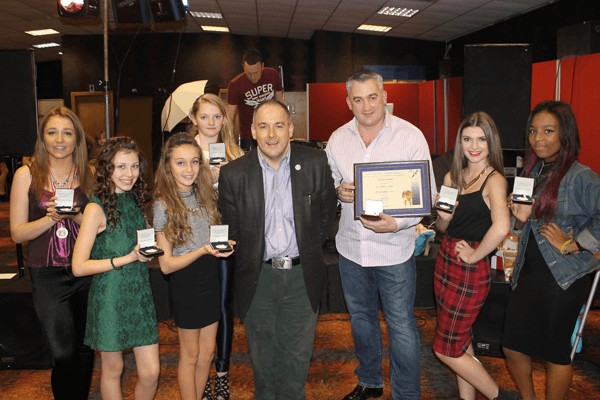 Makin' Steps Medal Presentation and Christmas Disco was held at Harlow Dog Stadium on 7th December. Over 350 people attended the evening held by Makin' Steps. Robert Halfon MP was on hand to present the Jack Petchey Awards to Makin' Steps 2013 Achievement winners.(see picture)
Robert Also presented the medals and certificate to all the students who took their ISTD Street Dance exams at the school on the 2nd & 3rd November.
Pupils aged from 3 years up to adults had prepared for their exams over the previous few months and had to perform a selection on dances for two examiners.
We are very pleased to say that all the pupils who took the exams passed and continued our 100% pass rate that school has maintained over the past 29 years. This is also coupled with an impressive 86% of pupils gaining honours – the highest mark available.
After the awards were presented the pupils and their families danced the night away with a DJ and a bar to keep everyone hydrated!
It was a great way to end the school term ready for their Christmas break. Makin' Steps classes resume in the new year on the 2nd January 2014.
2014 is going to be a very special year as the school celebrate 30 years of teaching performing arts in Harlow