We are back for our new term which starts from 1st September and we are enrolling for classes in Street Dance, Ballet, Tap, Modern, Singing, Acting & Musical Theatre.
We are very excited to be back and ready for a new term of exciting classes and new projects that we have in store.
Established in 1984 Makin' Steps Performing Arts school offers a diverse range of dance classes in Harlow as well as other performance skills classes such as acting & singing. We believe that our teachers can, through their vast experience and I.S.T.D and LAMDA recognised teaching methods offer the best Dance, Singing and Acting Lesson in the Essex Area.
Our extensive range of classes include hip hop/street dance, ballet, tiny tots' ballet, modern, tap, singing,acting/voice technique, and pas de deux, making it the biggest school in the area offering this range of classes.Lessons start from as little as £4.25 a class which guarantees you first class tuition at an amazing value for money too! Whether you want to get fit, try a new hobby, make new friends or have been inspired by all the dancing shows on TV like "Got To Dance" – our team of professional, fully qualified, insured and CRB registered teachers are here to make sure you have a fun, safe and enjoyable experience! Makin' Steps tutors are experienced, fully qualified and CRB registered professionals who are experts in their teaching fields..
Our principle teachers have worked alongside top artists such as Kylie Minogue & Robbie Williams on TV shows such as MTV & The Brits Awards as well as choreographing for TV shows such as Top Of The Pops and Strictly Come Dancing. This experience and knowledge combined with qualifications from one of the world's leading dance examinations boards is what sets Makin' Steps a part from many other local schools. Proof of the high standard you will receive at Makin 'Steps is shown by the fact that many of the school's pupils have furthered their training at professional London based colleges such as Performers, London Studio Centre and Colin's Performing Arts, with past and present pupils engaging in professional contracts all over the world.
Makin' Steps Harlow classes will resume from today 2nd January 2014. We will be restarting all our the classes on our extensive timetable which include – Street Dance, Ballet, Tap, Modern, Singing & Acting. So dust off your dance shoes, get those vocal cords warmed up as we kick off 2014 in true Makin' Steps Style. As this is our 30th Anniversary year we have made some amazing changes at the school and have not only a spectacular 30th anniversary show in May, but also a whole host of other events planned throughout the year. Our first is on Tuesday the 7th January when Twist & Pulse will be coming down to take two classes with our students.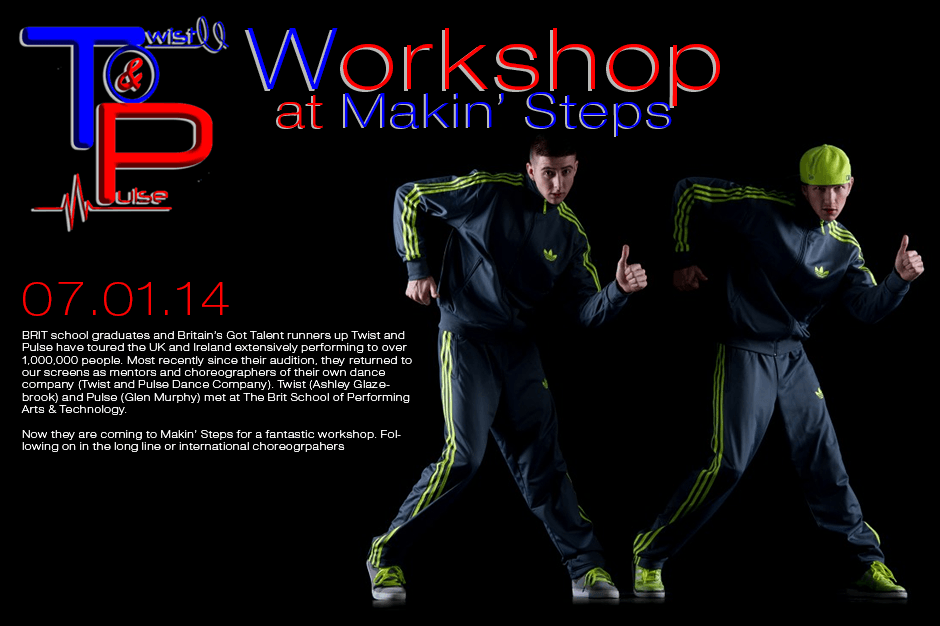 So get ready for a pack year at Harlow's Premier Performing Arts School.
BUDDING young performers spent some of  their school holidays sharpening their dance moves after taking part in a Harlow dance school's intensive summer course.
Almost 80 youngsters ranging in age from four  to 15 worked up a sweat during the week-long course run by husband-and-wife team Scott and Victoria Simpson at Makin' Steps.
Their hard work culminated in two shows staged for friends and family at the Potter Street Community Centre.
Those taking part spent the week making friends and perfecting routines in a  range of dance disciplines, including street, hip-hop, ballet, tap and modern.
Scott said he had been extremely impressed with the aptitude shown by his young pupils.
"The week was so much fun and they worked extremely hard to learn and perfect the numbers ready for the shows," he said. "As well as learning them, they also had quick changes to contend with and for some it was the first time they had performed on stage.
"Victoria and I were so very proud of them all. They showed real professionalism and their hard work really paid off.
"It was nice to see so many smiling faces, not only on stage but in the audience, too!"