Tag Archives:
Dance Examinations
We are back for our new term which starts from 1st September and we are enrolling for classes in Street Dance, Ballet, Tap, Modern, Singing, Acting & Musical Theatre.
We are very excited to be back and ready for a new term of exciting classes and new projects that we have in store.
Established in 1984 Makin' Steps Performing Arts school offers a diverse range of dance classes in Harlow as well as other performance skills classes such as acting & singing. We believe that our teachers can, through their vast experience and I.S.T.D and LAMDA recognised teaching methods offer the best Dance, Singing and Acting Lesson in the Essex Area.
Our extensive range of classes include hip hop/street dance, ballet, tiny tots' ballet, modern, tap, singing,acting/voice technique, and pas de deux, making it the biggest school in the area offering this range of classes.Lessons start from as little as £4.25 a class which guarantees you first class tuition at an amazing value for money too! Whether you want to get fit, try a new hobby, make new friends or have been inspired by all the dancing shows on TV like "Got To Dance" – our team of professional, fully qualified, insured and CRB registered teachers are here to make sure you have a fun, safe and enjoyable experience! Makin' Steps tutors are experienced, fully qualified and CRB registered professionals who are experts in their teaching fields..
Our principle teachers have worked alongside top artists such as Kylie Minogue & Robbie Williams on TV shows such as MTV & The Brits Awards as well as choreographing for TV shows such as Top Of The Pops and Strictly Come Dancing. This experience and knowledge combined with qualifications from one of the world's leading dance examinations boards is what sets Makin' Steps a part from many other local schools. Proof of the high standard you will receive at Makin 'Steps is shown by the fact that many of the school's pupils have furthered their training at professional London based colleges such as Performers, London Studio Centre and Colin's Performing Arts, with past and present pupils engaging in professional contracts all over the world.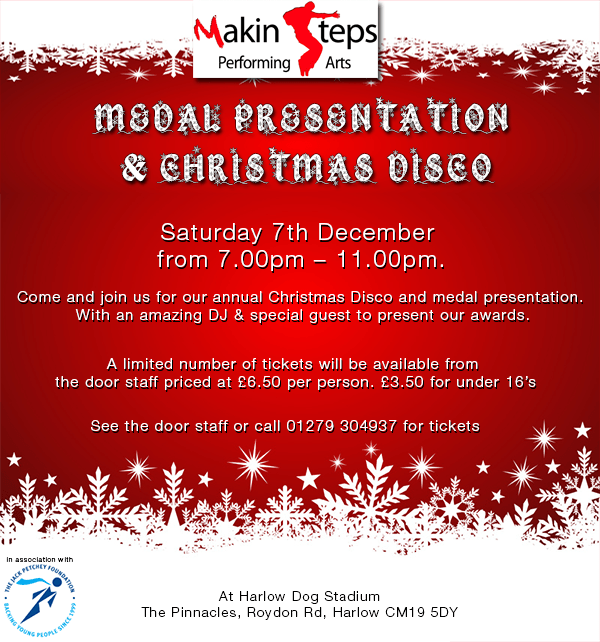 Every Year we hold our very own Medal presentation and Christmas disco. The medal presentation is for the pupils who took their Street Dance I.S.T.D examinations on the 2nd and 3rd November at Potter Street Community Centre. Nearly 200 exams were taken over the two days and were examined by two examiners from the I.S.T.D.
The youngest entrant was just 3 years old who took an under 6 medal, while our older students were taking their supreme. The highest award you can achieve in this syllabus.
Over the past 30 years, Makin' Steps have put thousands of pupils through their exams and are proud to have maintained a 100% pass rate. This coupled with an 86% pass rate at Honours is a testament to the high standard taught at the school.
This years medal presentation and Christmas disco will be held at Harlow Dogs Stadium. With a licensed bar and special guest DJ providing the music for the evening it is always a great family night out. This year we are also very excited to have a very special guest coming down to present not only our examinations awards, but also our Jack Petchey Award winners.
So grab you tickets by calling 01279 304937 or see the door staff.