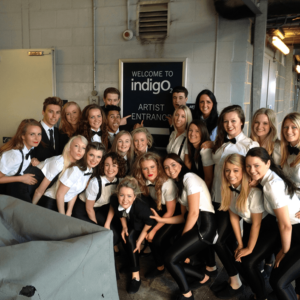 TeenStar Grand Final
Today Makin' Steps were booked to perform at the Grand Final of the TeenStar singing competition.  Performing a specially choreographed routine for the performance at the Indigo O2 in front of thousands of spectators. For this performance we took 26 dancers who danced to a mix of Mya's Pussy Cat and Justin Timberlakes -Suit and Tie and Body count. The routines were choreographed by Scott & Ross Simpson and the music was mixed at Woodbury studios.
Specially designed costumes for the number finished off the effect which was performed in front of thousands of spectators in the Indigo O2 in London.
Its was a very busy day with Makin' Steps putting the finishing touches on the routine on the Sunday morning before they travelled up to london.
Once at The O2 the dancers had just 10 minutes to block the number on stage before having to get changed an ready to perform.
But this is what Makin' Steps have always excelled at – professional, quality and first class performances from its amazing buck of dancers.
The organisers of the event were overwhelmed by the performance and look forward to booking us again on a future events.
To book Makin' Steps for any event just give us a call on 01279 304937.
www.teenstarcompetition.co.uk
www.woodburystudios.co.uk
www.makin-steps.co.uk