Tag Archives:
twist & pulse

BGT stars set pulses racing with dance workshops
BRITAIN'S Got Talent finalists Twist & Pulse took a special workshop of students at performing arts school Makin' Steps on Tuesday. Ashley Glazebrook (Twist) and Glen Murphy (Pulse) took two workshops at Potters Street Community Centre, one for younger students and the other for an older group. The ages of those who took part ranged from seven to 27. Around 70 of the school's pupils took part in the workshops.
As well as the classes they were also given a dance demonstration by the boys.Twist & Pulse said after the workshop: "We really enjoyed teaching at Makin' Steps and were taken back by the high standard of all the pupils. "We loved the enthusiasm, commitment and professionalism they showed. The pupils street dance technique was very strong." Margaret Wright, owner of the school, said: "I am so proud of the students tonight. They worked really hard and really nailed the choreography set by Twist & Pulse.
"The boys were great with the students, signing exclusive Twist & Pulse T-shirts and giving a question and answer section at the end of the evening.
"Twist & Pulse are the latest of a long list of amazing dancers and choreographers we have had at Makin' Steps. Everyone from Justin Timberlake's choreographer to dancers for Michael Jackson & Step Up revolutions lead man Misha Gabriel have been down to show our pupils their talents." After the workshops the students had time to get some pictures with the boys.
Margaret added: "We are very pleased with how the event went and look forward to many more to celebrate our 30th anniversary year. "We will be holding more workshops in the near future so be sure to check out our website for more information."
Twist & Pulse were runners up on the fourth series of the ITV talent show in 2010. They narrowly missed walking away the winners in the live final to Spelbound.
In 2012 the boys returned toBritain's Got Talent with their own dance troupe – Twist and Pulse Dance Company – and reached the live semi-finals. Also that year the boys presented and performed at every date of the 70-day Olympic torch relay tour.
Makin' Steps Harlow classes will resume from today 2nd January 2014. We will be restarting all our the classes on our extensive timetable which include – Street Dance, Ballet, Tap, Modern, Singing & Acting. So dust off your dance shoes, get those vocal cords warmed up as we kick off 2014 in true Makin' Steps Style. As this is our 30th Anniversary year we have made some amazing changes at the school and have not only a spectacular 30th anniversary show in May, but also a whole host of other events planned throughout the year. Our first is on Tuesday the 7th January when Twist & Pulse will be coming down to take two classes with our students.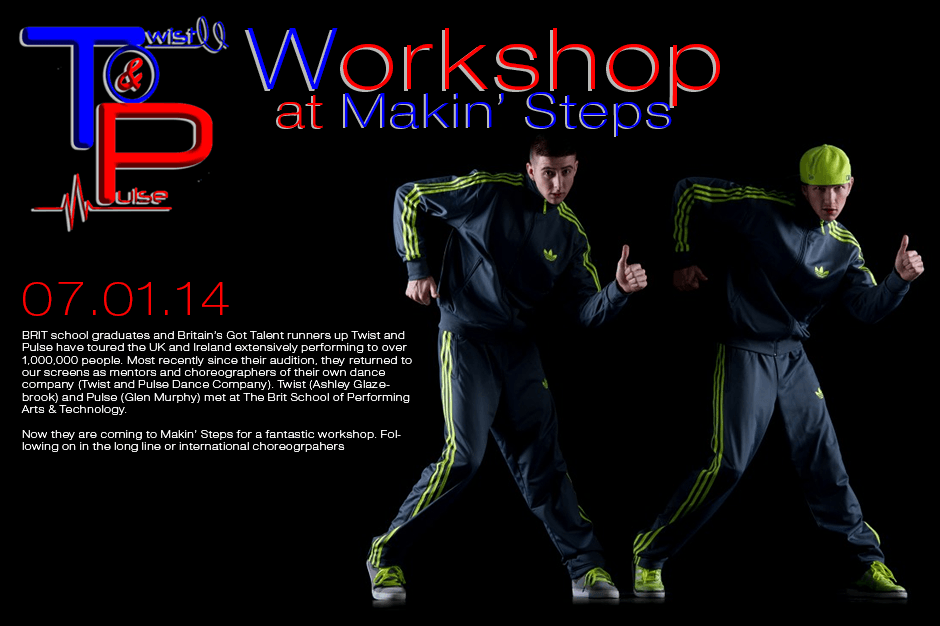 So get ready for a pack year at Harlow's Premier Performing Arts School.
Twist & Pulse workshop at Makin' Steps
7TH JAN 2014 – BRITAIN'S GOT TALENT RUNNERS UP TWIST AND PULSE WILL BE HOLDING A WORKSHOP AT MAKIN' STEPS.
£12.00 per class
5.30pm – 6.30pm  Beginner/Intermediate Class
6.45pm – 7.45pm  Advanced Class.
We have very limited spaces so book your place now by calling 01279 304937 or sending us an email to info@makin-steps.co.uk
Please note that there is a minimum age of 7years to do the workshop.
BRIT school graduates and Britain's Got Talent runners up Twist and Pulse have toured the UK and Ireland extensively performing to over 1,000,000 people. Most recently since their audition, they returned to our screens as mentors and choreographers of their own dance company (Twist and Pulse Dance Company). Twist (Ashley Glazebrook) and Pulse (Glen Murphy) met at The Brit School of Performing Arts & Technology.
Born and bred South Londoners, they have quickly become role models for young people around the UK today. They provide the perfect antidote to the social issues facing young people today providing purpose and motivation at difficult times. After the youth riots in the summer of 2011, Ash and Glen have become even more determined to work with young people. "We love seeing kids getting into dancing. We just want to teach them everything we know and pass on all our passion! We want to show kids that you can come from nothing and make it with hard work and a dream."
Twist & Pulse T-shirts
Twist and pulse have a selection of t-shirt available for you to purchase, which the guys will sign for you on the night. If you would like to order any of these t-shirts, please send us an email with your size and colour options from the list below. Payment will be required in cash on the night.These t-shirts will be ready for you to collect on the 7th January 2014.
Check out previous workshops that we have held at Makin' Steps!